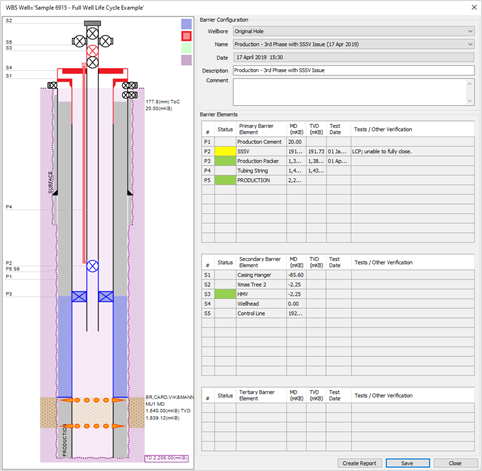 WELLVIEW BARRIER SCHEMATIC
The WellView Barrier Schematic allows you to quickly illustrate well barriers by using existing data in the WellView database or generate barriers without underlying data in the tool's Designer Mode.
This add-in quickly visualizes barrier philosophy and provides a user-friendly interface to easily present the status of well barrier elements. It is an offshore and onshore drawing tool that is available on the Peloton Platform.
Uses components that already exist as part of the well planning, construction, operational, and abandonment history in WellView. Avoids duplicate data.
Stores records by date to display how components change over time.
Provides a standardized view of the data. A PDF of the results can be generated.
Incorporates the integrity status to give a basis for risk assessment at the point of operational handover.
Aligns with regulatory requirements.
MasterView® integrated well lifecycle™
Integrated Solutions Across Your Entire Well Lifecycle
MasterView simplifies your operations by providing a seamless flow of data between Peloton applications and external, third-party products to enhance data integration and accuracy, provide comprehensive reporting at any stage of the lifecycle, and prevent expensive delays in construction, drilling, and resource scheduling.
GET THE MOST OUT OF YOUR PELOTON SOLUTIONS WITH OUR WELL-EXECUTED SERVICES.
Whether you're in the midst of a new software implementation or have used our software for the past ten years, our team of consultants will increase the value of your Peloton investment.
We Are Here For You, Wherever You Are
Reach out to one of our twelve offices around the globe to access immediate support, to get information, or to speak with our international helpdesk.